Shanghai Xinyang exhibits at SEMICON Taiwan 2012
SEMICON Taiwan 2012 International Semiconductor Exhibition was grandly held on the fourth floor of Taipei Nangang Exhibition Hall from September 5-7. This year's exhibition focuses on industrial issues such as MEMS, advanced packaging and testing technology, green manufacturing processes and second-hand equipment. The exhibition invited 60 senior executives from Micron, TSMC, ASE and other companies to give a speech. Shanghai Xinyang, as a well-known domestic semiconductor material supplier, was invited to participate in this exhibition.
The biggest surprise of SEMICON in 2012 was the development of TSV and Bumping technology led by 3D IC. The previous technical reports and mature products were relatively conservative and belonged to the state of "semi-hidden and half-present", but this year's exhibition emerged more Many material suppliers have joined this market competition, indicating that TSV technology is maturing and the process of industrialization is rapidly advancing. At the exhibition, some well-known enterprises, such as TSMS, ASE, UMC and other industry giants have come to the booth of Xinyang in Shanghai to communicate with the company, showing a strong interest in Xinyang's TSV technology and MSA system Bumping technology. I believe that through the joint efforts of all the company's technical staff and market personnel, Shanghai Xinyang will inevitably become the focus of the world's future in the advanced semiconductor wafer manufacturing process.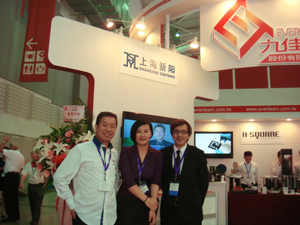 The picture shows the company's deputy general manager Zhi Wenyan and SEMI Taiwan and Southeast Asia President Cao Shilun (right), Taiwan Jiujia Technology Co., Ltd. general manager Ma Qingxiang group photo